Arab Health Conference – Dubai-UAE – U.S. Pavilion
"A three minute photo op…. Lamar is the consummate salesman…15 minutes later the photo op is over…U.S. Ambassador Corbin bought a pair and left a coin for the a pair of insoles"

U.S. Ambassador Michael Corbin with Lamar Hudson at Arab Health 2013 Dubai-UAE
Col. David Glover – U.S. Army (RET)
Lamar: Wanted to know if you are in UAE for Arab Health conference? Hope business is going well…and that UAE offers opportunity. I wear your insoles every day and I am a fan. Would love to stop by and see you…
Michael H. Corbin
U.S. Ambassador to the United Arab Emirates, Abu Dhabi
AAFES Fort Knox, Kentucky
"Fort Campbell Team, Hope you are all doing well… We wanted to share an AAFES Long Term Roving (LTRC) vendor with you in hopes that you will be able to work him in your mall area. This gentleman and his team are very professional, has a great set up and I believe he would do very well in your location. The insoles are selling for $275 so they are not "inexpensive "but he has already sold 3 pairs since yesterday afternoon. Not the average insole….once you see his presentation you will understand what I mean. His website is listed below and I have cc'd him on this email. Please let me know if you have any questions… I have listed testimonials from their website".
Army Air Force Exchange Service – Services Business Manager
Mrs. Jeanae Young Fort Knox, KY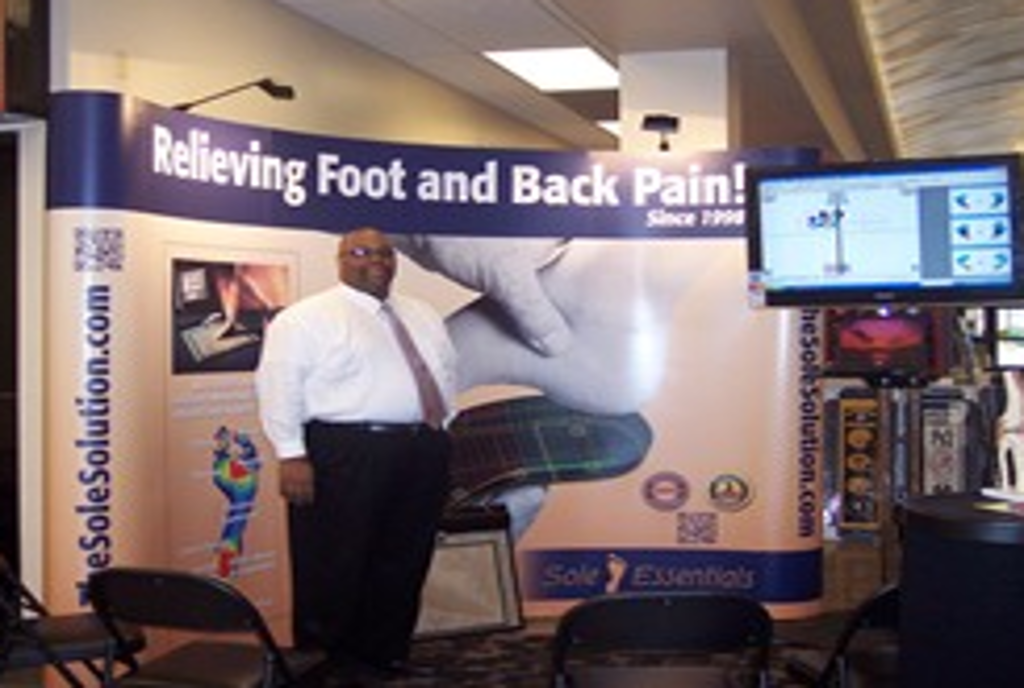 New Road Show/Event Display –Fort Knox Kentucky – AAFES LTRC
We really appreciate any feedback you would like to give us. You can leave us a review below or on our facebook page, google or trusted reviews site. However you would like we would love to hear from you.
Facebook Review      Google Review     Trustedsite Review
Finally some relief
I'd been suffering for six months with what has been diagnosed as a partially-torn meniscus. I'd had an MRI and consulted a surgeon before deciding to give you a try. I'm glad I did. In the three weeks since I started wearing the insoles you made me, my knee pain has disappeared. People have noticed that I don't limp anymore. I tell everyone about my insoles. Thank you again.
Long day and I feel better
Worked a flight with my new orthopedic inserts. Noticed a big difference.
Thank you Lamar
Lamar, I just wanted to tell you how happy I am with my customized insoles. Nine months or so I came in to inflight to start a trip. You gave me a complementary computerized exam of my feet. I could see on the screen what I was feeling. I came up to the store and purchased the insoles. I feel much better after a long day on my feet. I can bike without knee pain. I can walk endlessly without pain. That is wonderful. I had feet pain for so long I had become used to putting up with it now I know I really don't have to it can be a thing of the past. I look forward to getting another pair to put in my heels too. I am climbing in the Andes Mountains in November I couldn't have done it with the knee and foot pain I had before getting my insoles. Thank you so much. You are so helpful and kind every time you see me in the airport, thank you! Your excellent customer service does not go unnoticed.
No more limp
I was limping through the St. Paul/Minn. airport when Lamar called to me from the Sole Essentials store. I went in, told him I was slowly recovering from a broken foot and my foot was swollen from an 8 hour flight. I had a long layover, and in that time Lamar had me go through the computerized tests and try a few inserts until we found one that suited me. He spent a little bit of time customizing the fit and by the time I walked away from his store, I was actually walking, not limping. It was a great relief and the inserts have made a huge difference in my recovery.
Singing praises
I came into contact with Sole Essentials over 3 years ago and have been singing their praises since. I am a physician that worked long hours and by midday my feet would be in excruciating pain, trying not to limp down the hospital corridors. After wearing the insoles, the pain in my feet and knee resolved almost immediately. I became a believer and have worn them ever since. As a traveling doctor I saw the need daily. I worked with the military, elderly, diabetic, and the average patient in different settings, seeing so many conditions that could be remedied by Mr. Hudson's Custom orthotics. Mr. Hudson has stood by his product. He even personally came to fit orthotics to my narrow feet/shoes and to be available to provide this service to the clinic which I worked. I highly recommend Mr. Hudson and Sole Essentials Custom Insoles product. I wish it were available for all my patients in every state and place that I worked. Sole Essentials Orthotic results are amazing and durable! I tell people about them on a regular basis. Over the years, I have tried a myriad of orthotics including Dr. Scholl's, TV infomercial shoe inserts, and etc. but none have ever come close.
Finally something that works
I have tried every type of orthotic that the Army had to issue, from the soft foam to the leather orthotics to help treat the loss of flexibility and pain in my feet and legs. The army issued orthotics gave out right away from the heavy activity and stress a soldier puts on their feet and gave me little to no relief. Finally halfway through my career the Army made me hard plastic custom orthotics, which stood up a lot better than off the shelf orthotics the Army would issue me. Still they only last me about four to six months, because of the use I put on them as a soldier; and the pain would return. I was a regular at the podiatrist office getting fitted for another pair of orthotics. Even after I retired from active duty, I was not as active as when I was on active duty, the hard plastic orthotics did not last. I decided to give Sole Essentials a try instead of getting my old plastic orthotics for free from Tri Care and having to replace them every four to six months. Sole Essentials makes a great product!
Thank you thank you
Thank-you for the insoles. I have had problems for about 20 years, and they worsened significantly in the last 5 years. Chronic pain and days without being able to walk were common. I was on my way through the airport and Lamar asked me to have a listen. I have been wearing the insoles and my life is completely changed. I am walking a lot again (having been using the bike to stay fit), and I am a changed man with a changed stance. This is Khal Shariff of ProjectWhitecard.com, an educational software company for over 10 years, and I would like to thank Sole Essentials publicly for solving an issue that my other appointments could not. Take care Lamar and Merry Christmas. Khal.
Khal Shariff
Add my testimony
I want to add my testimonial of the benefits I've experienced since getting sole inserts from Sole Essentials one year ago (2016) in Minneapolis Airport where I am based as a Delta Airlines Captain. What initially drew my attention to the store was a sign saying that sole inserts were eligible for Flex Saver reimbursement and I had a limited purpose Flex Saver account with funds which might be lost. For some months prior I had been experiencing increasing discomfort and pain most noticeable as I was walking through airport terminals. My medical history has included a ruptured Achilles Tendon, complete right hip replacement and lower back surgery with fusion of L3, L4 and L5. My existing pain was in both knees, the hip and lower back. Lamar Hudson, the owner was very thorough in his explanation of how and why his product works and demonstrated with an insert the difference in weight distribution. One week after wearing my inserts my pain was gone and never recurred!
Love our inserts
Hi Lamar, My mother and I both purchased insole inserts at the Birmingham Nationals on 06/11/2017 which were shipped on 07/07 & 07/08, respectively. I believe you said we could order a second pair at a substantial discount and we both are interested in doing so. My invoice # was ##### and my mother Fran Allison's was #####. Please contact me at your earliest convenience to order a second pair. We both are very pleased with the inserts we received!
Best product on the market
I need to get my daughter's feet re-imprinted for a new pair of inserts. She keeps telling me that she does feel her current pair of inserts are supporting her arch. If you are coming to Texas, we can come meet you and then you can computer measure her feet. Either way we would like you order a new pair of inserts. You guys got the best product on the market. v/r Robb
Showing gratitude
I'm simply writing in my gratitude for your help and my happiness with how well the inserts are working. I am a flight attendant and on my feet for easily 8-12 hours a day on average. Your custom orthotics have truly helped in alleviating the tired feeling in my feet after a long day of work, especially in my arches. I feel as though my posture and alignment are much better. I cannot thank you enough and will recommend this product to anyone seeking to alleviate pain or avoid serious injury down the line.
Huntsman Games purchaser
Lamar, I purchased a pair of insoles from you at the Huntsman World Senior Games on 10-9-16. I am very happy with the insoles and would like to purchase a duplicate pair for the price of $175. My original order # is ####. This pair should also be of the Sport Style. Thanks, Bill Narath
Bill Narath
Take away my pain
Hi, I visited your store on Tuesday of this week. I have chronic pain though out my body, including my feet and ankles, and I was very impressed with your product. I would like to go ahead and try them out for 60 days. The only thing that significantly helps my pain is cortisone. Orthotics and prolotherapy have helps minimally. Anyways, I'm looking for a solution and I was so impressed with how much stability the insoles gave me. I have neck, back and pelvic issues as well so I'm excited to steady using your product. Please contact me when u can so that I can order my pair! :-)) Sincerely, Gina Priolo
Gina Priolo
Better than goodfeet
I visited your airport store at the end of October 2015. At that time, Lamar did an evaluation of my needs and hopefully saved those results. I am definitely still interested in what you can do to relieve my ankle problem. I want to recheck the price, delivery time, etc. with the possibility of a purchase in the near future. Aside: LaMar is a sweetheart!!! As you can see, I have taken my time and have done a comparison with Good Feet and decided that your product better suits my needs. I would also like to be able to look at the shoes you offer. I really like some the styles you offer.
Happy Feet = Improved Golf, Bowling and Aerobics!!
My feet were killing me! Four years ago, I was diagnosed with Morton's Neuroma- a pinched nerve of both feet- a painful condition that were usually start flaring up by noon each day. It was worse while golfing, bowling and doing aerobics. I had shots of Cordizone for temporary relief but usually was taking at least 800 mg of ibuprofen each day to relieve the pain. I threw out my old shoes and purchased $200+ shoes specifically for the foot condition. I tried store bought inserts too for my golf and bowling shoes but nothing worked. I had to stop taking ibuprofen and was searching for another solution which turned out to be Sole Essentials! Lamar set up a vendor table at a Golf event two years ago and I listened to his pitch, decided to give it a try and bought both the dress and sandal inserts. These have really changed my life. My golf game has improved- feet feel great and I am more balanced- my handicap decreased nearly 6 points. My bowling game improved- raising my average from 126 to 142. I can do aerobics for an hour and my feet are pain free. My feet rarely hurt!! If they do, it's usually from flip flops or sandals that the inserts do not work with or excessive walking. Plus, no more ibuprofen!!
Don't delay, like I did
I finally followed through with a recommendation from my Chiropractor. My wife got orthotics from Lamar a couple of years ago but, for some reason, I waited until about a month ago. She is very happy her orthotics. Being 61 years old, I started having knee discomfort well over a year ago. Determined not to be crippled up like my, now deceased, elderly parents, I decided that exercise (stretching), diet and high quality supplements would be the path for me. I constantly attempt to self-diagnose any physical issues I encounter although reacting to what your body is telling you is important. All of my other joints are pain-free. I previously had insoles from Good Feet (over 10 years ago) and from a Podiatrist (sometime in my early 30's). Good Feet does not make insoles that are custom-designed for your left foot and your right foot based on your standing and walking weight distribution. I recently went through a number of store-bought insoles and shoes trying to discover a formula to get my knees back to normal. My advice, save that money and put it toward orthotics from Sole Essentials. I have been using mine for two weeks now and keep waiting for knee discomfort to resurface. It won't be long and I will forget that I had knee discomfort. Lamar is now a trusted member of our family's team of go to experts.
Thank you! Great product. Great service.
Lamar, thank you so much for taking the time to interest me in your product. I was one that took some convincing, but I have been wearing the inserts daily for a couple months and I have experienced the difference. Not only are my feet more comfortable, but my back and neck do not hurt as much as they used to. Your kindness and phone call follow-up will not be forgotten!
Senior Athlete
Spectacular, I bought two inserts and used them in a handball tournament without even breaking them in. I played great and won, and my feet and back have never felt better. Lamar's customer service was above and beyond and I only wish I discovered you 20 years ago.
Helping Feet Internationally
My name is ED Yasana
I have been a Supervisory Transportation Security Officer at HNL International Airport for seventeen years. I have lived with constant back and hip pain due to an injury I suffered over twenty years ago.
It was highly recommended that I have back surgery but I opted not to. Two years after my injury
I was able to pass the physical for TSA and was hired during the nationwide rollout of TSA in 2002.
Although I've had constant dull ache pain in my low back and pain down my leg. I've maintained my physical "fit for duty status" by working out, rehab therapy and riding waves. I've used meds, injections, supplements, creams, gels, magnets, supports etc. to take the edge off, but just sucked it up and live with it was my usual treatment.
I met Lamar Hudson at the HNL Airport while I was leaving work and he saw me walking and stumbling toward the escalator. Lamar was working at a health and safety seminar for Delta Airlines. He commented that he might be able to help me and gave me some information on his product.
I worked as a multi-disciplinary chiropractic-medical infra-red thermography technician for about ten years prior to TSA and was very familiar with his form of treatment. I was evaluated with his unit and saw exactly how I was putting pressure on my feet while I was walking and standing. After his evaluation and trying his sample product, I knew I wanted to try this product. There was no pressure to buy.
At the time I had constant pain in my hip and had even gone to a Doctor to see if I might need a hip replacement. When I got my custom orthotics, the first week I noticed I was walking longer distances with better posture. Three months later the pain in my hip seemed to lessen. This is my fifth month using the orthotics and the pain in my hip is totally gone. I am able to walk longer distances and have been able to increase my work out load at the gym. I know I am walking better than I have in the last five years. My quality of life with my movement and pain reduction has improved a hundred fold.
I recommend getting an evaluation by Lamar if you have any issues with low back or hip pain that may be related to the way you walk or posture.
Thank you for helping me Lamar.
ED
Edward T. Yasana STSO -ATLAS -BD
Supervisory Transportation Security Officer – Behavior Detection
ATLAS Advanced Threat Local Allocation Strategy
Department of Homeland Security – Transportation Security Administration
Daniel K. Inoye International Airport – HNL
Making a Big Difference
It is very rare that I leave a comment or post something about a product, but I felt that maybe my comments might allow someone else to benefit from this product. I had my doubts about the inserts but they worked for me and hopefully others could get the relief, comfort and benefits from the inserts as well. Mr. Hudson stopped me one day while I was walking out of the PX on Fort Campbell after doing some Christmas shopping. I thought to myself, he is going to try and sell me something that I don't really need. He was very polite and asked why I was wearing a rocker shoe, I told him that I had to have corrective surgery for Charcot Foot and this was a solution to help me walk better. He asked me to take a few minutes to let him try something and I agreed. He put some inserts in my shoes and had me walk around to see how it felt. It felt fine but wasn't much better than the rocker shoe, he tried some different ones and I again walked around and this time it felt like I was walking somewhat normal again. He told me he could make me a custom pair of inserts that would feel like this all the time. I had my doubts because I have heard this story many times and from many people who have wanted me to try this or try that. Mr. Hudson looked me in the eye and said, "You haven't tried mine and I guaranty my insoles". I agreed to let him get my measurements and make me a pair. I received them the day after Christmas and used them like the instructions said. After about a week of walking in them I met with my doctor who was impressed with them and told me to get rid of the rocker shoe and wear these instead. My physical therapist now has me using the elliptical instead of the recumbent bicycle, and is always talking about how well I am progressing now with these insoles. I talked with Mr. Hudson today, almost a month after receiving my inserts. I had to let him know that I had my doubts about the inserts and the difference that the inserts have made for me. I ordered two more pair so I can have them in each pair of my shoes and not have to keep swapping them out. I don't think the inserts will ever allow me to be able run and jump again but they have without a doubt improved my quality of life and ability to walk, and hopefully one day be able to walk without a cane.
Thank you Sole Essentials for getting me back to work, pain free
Thank you Sole Essentials for getting me back to work, pain free. Your scientific medical orthotic shoe inserts are saving me from expenses of doctor visits (foot, knee, hip), knee injections, and pain meds – saving Delta (and me) a ton of money. I don't have to drop trips because something hurts, and when I AM working, I'm not having to sit down to "rest" like I used to when foot, knee, hip and back pain talked to me. I also sleep better because I haven't caused irritations that kept me flipping and turning to get comfortable all night! A podiatrist told me I needed custom orthotics after my hip replacement, so that I could have optimal balance and correct alignment after walking wrong for so long as my hip deteriorated. I had gotten Sole Essentials insoles three years ago, which helped with knee pain, plus corrected my posture and helped with back issues at the time. I showed the podiatrist the Sole Essentials I'd been wearing, and he said that those were exactly the type I needed. After the hip surgery, I got new shoes and had Sole Essentials made for me. When the extensive testing at the Health Fair (E concourse in March) was finished, Lamar Hudson told me his tests showed that one leg was longer than the other. Only my hip surgeon knew that. I had been putting drugstore inserts, and even pieces of cardboard or paper towels in my shoes to compensate, and I knew I needed genuine support. I now have custom orthotics that are different from each other, because each side of my body has a different set of needs to balance correctly, and have everything work in symmetry – which is how our bodies were designed. As things wear down and deteriorate, the body tries to even it out, but that can cause something ELSE to be skewed that needs help. I have been trying to get a gel knee injection for weeks, due to being uncomfortable, and losing sleep. I don't want to take a lot of pain meds – I'd rather fix the problem if it's fixable. They have dropped the ball dealing with the special pharmacy, and I've been frustrated at the lack of coordination for the last three months. My Sole Essentials insoles came, and I wore them some of the time for the first few days, then all the time. Now my knee doctor's office is calling to schedule the injection I was in tears over getting. Guess what – Over the last month, I have forgotten the knee! It doesn't talk to me at all! I thought it might lessen the discomfort, but I'm not having any pain at all. I have been miserable with the knee for months….I know that the Sole Essentials orthotics have allowed balance to my body, and bones aren't banging together like they were without them. The scientific testing that Sole Essentials does is very interesting to see. Not just one little test, but several ways of weighing and measuring what your body is doing and not doing. Delta and UHC should look at this technology and see how it works to the benefit of everyone. They should get together and make these available at minimal cost to those of us who are on our feet for so long, and for those of us who have balance, back and posture issues as we age. It would save on sick leave, medical visits, prescription meds and grumpiness from discomfort! — All of which saves Delta's bottom line, and makes for happier, healthier crew members! Delta has been talking to us for quite a while now with videos, memos, signs, etc., about how to be healthier – lifting, standing, ergonomics, etc. — this is a huge addition to that way of thinking, and of saving money and keeping us healthy at the same time!
Thank you, Sole Essentials!
Joyce Harrison 610/ATL